And you can tell everybody (part 2)…..
In the second blog of this series, Jasmine Storey-Robinson tells her story.  Jasmine is almost 15, and has lived a life way beyond those years.
I would really like to thank Jasmine for sharing her story.  I have found sharing my experiences a little daunting at times, especially sharing with those who don't know me, or may never meet me,  so for someone so young to contribute is a great thing!
To find out more about the Australian Transplant Games (to be held 29th September to 6th October 2012 in Newcastle, NSW) go to http://www.transplant.org.au
"I was born slightly jaundiced but not enough to be worried about. Just a few short weeks later when I went for my 6 week check-up, the doctors discovered I was in desperate need of a liver transplant. I had my Kasai procedure which brought me some time but it wasn't a complete success as my liver deteriorated rapidly. I was not supposed to live past my second birthday and my parents were advised to get a video camera and enjoy what they had left.
I ended up on the transplant waiting list at 11 months old and finally at 18 months they found a donor, a match but it was a false alarm.
 I was a happy baby, loved life, loved the nurses and doctors who gave my stickers and lollies, even the ones who didn't. I smiled at everyone and everything! I just saw the best of every day. I made it past my second birthday amazingly but diseases wait for no one. My arms and leg just got thinner and my stomach swelled more and more each day. The damage eventually caught up to me and one day I just couldn't get out of bed, I didn't want to play with my toys, I knew it was over. No amount of medication could ever help me now, my skin was pumpkin orange and my arms and legs twig thin.
The specialists came in every day, they were quiet, as if they knew what was happening to me, but didn't want to say it. This went on for days - they came in, looked at me, said nothing and left. The clock ticked and the painful wait for my parents grew more intense each day.
 Finally one day they came in and they spoke. A match! Someone who was willing to donate! Someone who could really save me. But the question still dawned on my parents. What if it was too late?
 But it wasn't. 12 hours in surgery and I was back in Intensive Care, playing with my Tellieitubbies (my fave show back then) and smiling and happy as ever! Just 9 days later I was out of intensive care - no tubes, no drips - nothing! Within a month I had doubled my body weight and was out of hospital.
I've never looked back. I still have to go for 3 monthly check-ups, but everything else is great!
Growing up was not very different to anyone else I guess. I caught the common cold every couple of winters as everyone does and went through life normally. I'm able to play sports, and read and write just like everyone else I know. The only difference between me and other kids I can find is that I have to take anti-rejection medication every 12 hours and I have a massive scar on my stomach everyone asks about. I do have to be careful at times. Any seriously sick people I have to stay away from as everyone does I guess. I won't be able to drink alcohol when I'm older because of what it can do to my liver but that's probably a good thing! Because of my medication I'm a bit clumsy but that's it!
I am happy and love to enjoy life! Everyone reckons I'm hyper-active, but it's just the fact that I'm able to wake up every day and not have to worry about anything that's what makes me so happy :D I have a part time job and can function like any 'normal' person and if I didn't tell anyone I don't think they would even know that I was born with a life threatening illness!
At times throughout my life I felt like I was the only one but that was when I discovered the Transplant Games! I went there a couple of times and met so many amazing people with the same kinds of experiences which was just fabulous and it gave me the reassurance that I wasn't the only one. I'm hoping to go again next year and I'm already fundraising!"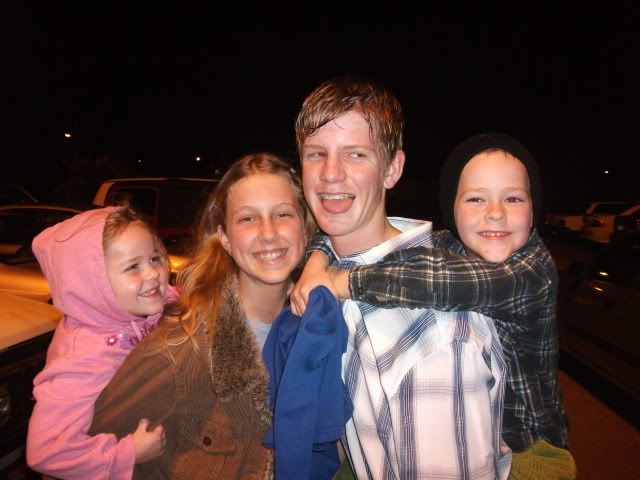 Jasmine and her siblings last year. (L-R:Lily, Jasmine, Jericho and River)