My Journey of Hope...
Oct 08
Moving forward…..
It's funny, but I have found that I have more questions post-transplant than I did when I was first told I needed one.  Everything I do ignites the little voice inside that asks if what I'm doing or feeling is normal and should I be doing it.
A good example of this is when I woke one morning with an extremely sore leg.  I put it down to a simple muscle strain, but by last Saturday I was having difficulty walking and difficulty ignoring the pain, so off to ED we went.  Unfortunately, even in the 21st century, hospitals still take a break over the weekends, so the best that could be done was to rule 0out infection and send me home in painkillers.  Tuesday rolled around (long weekend in NSW) and as I still was in a lot of pain off I trundled back to ED, where luckily for me, the doctor who had seen me on Saturday night was working again, and so I was sent for more extensive testing to determine the cause of my pain.  After a very long day of poking prodding and testing, the doctor returned to my bed with a triumphant look on her face and a piece of paper which she handed to me (and I couldn't read, ha-ha.) The doctor informed me that I was the proud owner of a fractured pelvis, and that some time, painkillers and eventually walking when tolerated would put me on the road to recovery.
So now here I sit, wondering if I have pushed myself too much over the past month. I asked this of my doctors at my clinic session on Thursday and was almost laughed at, before being reminded that I have always put my health first (well in the past five years anyway) and that the moment I feel that anything is wrong I present myself at Emergency – isn't that why I'm treated like a long lost family member there? I realise that they are absolutely right and that I am now extremely "paranoid" about my health and am not afraid to say something is wrong.
This is still hard to prove to other people, and in the past few weeks I have been playing the interview game, and the subject of my five year absence from employment has almost always been met with raised eyebrows and a feeling that I will constantly have to prove myself, even though I will ALWAYS be a transplant patient, and never out of harm's way. Despite this, there is always the concern from an employer that I will "push myself too hard" so it's a little frustrating.
I now wonder what YOU, the lovely people who read this blog (many of you recipients yourselves) have done in my situation.  How long post-transplant did you return to work, and what barriers did you face along the way? How did you address the gaps in employment?
Sep 28
Care to take a risk…..guest post by Russell Scheetz
There is something extremely satisfying about selflessly giving yourself for the benefit of someone else. I have cared, and will continue to care, for Trish because I don't know any other alternative than seeing her smile when I hug her better, or easing pain with a massage.
 It is rather surreal to see Trish's first post in this blog posted only this year, some four months ago and prior to the transplant. Not only has there been a dramatic physical change in her body, the transplant has had an impact on our lives in ways we never comprehended.
 Despite being 'fortunate' enough to be able to rely on kidney dialysis keeping her alive, life was quite tough constantly 'living' at the hospital. I know the place quite well, as do the myriad of other kidney dialysis patients (and their families), many of whom have been on dialysis for 5-10 years.
 Trish would travel to the hospital on her own three days a week, and we would sacrifice a Saturday as well.  A typical dialysis day for me meant travelling home from work, driving to the hospital and keeping her company until she was ready to be taken off her machine. I would then walk her to the car, drive the quick 15 minute trip home and make dinner – most often 8pm or later. This meant a dialysis day was a late night. I swear I could tear off the six pieces of tape, each one around 10cm long, and cover the dialysis needle sites in my sleep!
 Dialysis not only meant travelling to hospital for dialysis sessions but also to visit Trish on the many occasions she was admitted. Many of the complications of her diabetes meant recurring admissions, often for a week whilst her body recovered. Although her visits were relatively short-term compared to many patients who were even less fortunate in their health, I am extremely grateful her body will be better able to recover from these complications and won't have frequent admissions.
 As thankful as we both are to have a much improved quality of life post transplant, we both appreciate the fragility (or complete lack of) Trish's immune system. The mountain of pills she now takes creates a delicate balance of suppressing her body from rejecting her new organs and also keeping infection at bay. Being fair skinned has meant sun exposure has always been a risk, however now even a short time in the sun WILL cause skin cancer. Plenty of her tablets warn of the risks.
 It is strange how taking a risk can work out. Just over four months ago a family took a risk to consent to donate the organs of a loved one. A team of extremely talented surgeons took a risk operating on my beautiful wife to give her another chance at life. So far the risk has been worth it, and as time passes by and her body gets even stronger, hopefully that family will know the life changing gift they gave is making a difference to the lives of many, many people.
Sep 17
"Roid rage"…..
In a bit of a dark mood today, so I thought it might be a good opportunity to write, as this blog is supposed to be a "warts and all" story.  Have been finding myself in bad moods a lot recently, and just feeling a little down about things. I am finding that I am actually having trouble coping with certain things, and I'm sure you can imagine that this can be affecting the various facets of my life. 
I think (in fact I know) that my posts have been generally upbeat – mostly because my experience with transplant has been a positive experience.  What hasn't been disclosed is the down side to illness and transplant.
Unfortunately, for all the people in life who ARE supportive and caring, there are those who come into life who perhaps haven't been exposed to illness, especially illness so serious that it requires major surgery to treat.  The loss of relationships throughout serious illness is extremely common, but rarely addressed, and it is these breakdowns that tend to affect us the most.
Having said that, I have also found it hard to cope with the members of my support crew who have been surprised when I have gotten sick over the past three months.  As well as you educate people on how serious "minor" things like a cold can be for a transplant recipient, it's still a shock for them when you end up in hospital.   I think a lot of it is a lack of understanding, but nevertheless it's hard not to get a little annoyed when someone says "you're sick AGAIN? I thought you had a transplant?"
The financial burden placed on a family affected by serious illness is also something that is acknowledged, but little is actually done.  There is support in the form of welfare payments, but I have found in my experience that my illness and need for transplant didn't quite fit into all of Centrelink's boxes, and I therefore have fallen through the system, which then causes further financial strain on my family.  In my case, I already feel that I am enough of a burden on my loved ones, and having to rely on just one income for the past four and a half years has been extremely challenging.  Thankfully I have had my transplant and it has been (so far) successful, and while I know that I should be looking after myself there is still a form of indirect pressure for me to contribute financially.
The financial struggle that I have faced is surely nothing compared to some of the problems faced by other recipients and those waiting on the list.  Having to travel interstate to be close to the transplant hospital, uprooting family members who also have to give up their lives and sometimes work in order to support the sick patient and even having to travel several hours to attend specialist appointments all come part and parcel with the need for a transplant, and that doesn't include accommodation needs while recovering – especially if you don't live anywhere near the transplant hospital.
The sheer amount of medication can be overwhelming at times, as can remembering to take them on time! It is definitely a better alternative to constant hospital visits, restrictions, test and needles, but on some days, it's a struggle, especially once some of the side effects rear their nasty heads.  For me, I think the two main culprits have been an anti-rejection drug and steroids.  I heard the term "roid rage" a few days ago at clinic, and as soon as I did I could finally put my finger on some recent strange behaviour. I've found that I have been moody and irritable, and even sometimes getting upset and angry for no particular reason.  It's hard to explain to someone who isn't going through the same thing that it is drug-related, as it just sounds like an excuse.  Thankfully, my physician has informed me that as the dose of steroids goes down, so will the mood swings. Just can't wait for that!
There are apparently a few differing side effects from the particular anti-rejection drug I am taking, but for me, the worst has been hair loss.  I vow I will NEVER AGAIN tease my Dad about being bald – it's a horrible feeling to stand in the shower and have hair falling down the drain.  This has been a major issue personally, since I have already had some body issue problems (in previous blog) and also because I am female.  Am upset about this on a regular basis, but this too should resolve once medication doses come down.  It's just hard to feel good about yourself some days.
I guess that being so ill for so long and then suddenly feeling full of life is going to be something that will take time to get used to. A lot of the "post-transplant" literature out there indicates that there will be a "transition period", but what I'm wondering is if anyone who may read this blog and is also a transplant recipient has gone through similar issues? Actually, I'd like to hear from ANYONE who has felt this way – this isn't isolated to transplant recipients.
Sep 10
Thank you……(for loving me at my worst)
I have a lot of people to thank for their love, support and care over the years, and now even into the future.  A lot of these people have seen me at some of my worst and lowest times, and now that I have received my "second chance" I hope that they will now see me at my best.
So here they are (in no particular order) my Care Squad.
Kevin and Maree – my Mama and Papa.  Who better to start with than the two people who have had to live through this with me my whole life? I can't imagine having a sick chikd is easy for any parent, but for my Mum and Dad – I was their first born, their "little ray of sunshine" and yet at age one I was eating and drinking plenty, but not gaining any weight.  The subsequent Doctors' and hospital visits must have been a surreal experience – diabetes was still extremely uncommon and even more so in someone so young.  My parents are survivors though and lived through some horrible times when I was a child, and even more as a young adult, and it broke my heart the day my Mum confessed that she wondered if there was anything they could have done to stop things getting so far.  Even now as I think about it and type it, I'm crying.
Rebecca, Lauren, Melissa, Caroline and Carissa – my high school friends who are still my closest girlfriends in the world.  These girls have taken care of me through Intensive Care and High Dependency, numerous hospital stays, movie marathons, late nights out and dinners at home. They have definitely seen me through some very tough moments, as well as quite a few good times and I love them like sisters.
Chris – my "big little brother." Even as little kids we didn't fight all that much, and it's now that Mum has told me she raised us to be best friends that I really appreciate this.  Chris is my bodyguard when Russell isn't around, and my eyes as well.  He is definitely a gentle giant, and one of the most patient people I know (which makes me wonder how we can be related, since I'm NOT patient at all) More than anything I am glad that he has no diabetes and therefore none of the complications that have gotten me to where I am today.
Russ – Since 2007 Russ has been my 'Knight in shining armour" and I couldn't ask for anything more.  Not many couples will have to go through the things that we have, and especially at such a young age, but I guess even fewer couples would make it through like we have.  Whenever I'd feel a little downhearted about my latest illness or hospital stay, Russ would always say "we'll get through it together – we're a team" and even though it's still early days for my "second chance" not a day goes by when I'm not grateful that Russ is on my team.
Professor Jeremy Chapman, Dr David Rutherford, Kathy Kable and Paul Robertson – My transplant team at Westmead.  Even though they have only been part of my life for a very short time, they have impacted on my life in ways that I just cannot explain. The entire team has cared for not only myslef during this time, but Russell as well - explaining treatments and procedures and just things I couldn't explain.  The changes to our lives that this team has made have been immeasurable. 
A/Professor Tony O'Sullivan – my Endocrinologist – I'm sure I have given him some grey hairs over the time I have been under his amazing care, but Dr O'Sullivan could almost be the one person I am most indebted to, as he is the one who asked me how I felt about the possibility of having a transplant.  I'm sad now that since I am less ruled by my diabetes I won't have the need to see the doctor who has looked after me for so long.
A/Professor George Mangos – my Nephrologist and a close colleague of Dr O'Sullivan. Dr Mangos has seen my rapid decline over the past two years from being diagnosed with kidney failure to now having my transplant.  I'm sure I've given him some grey hairs too, as my body doesn't always seem to like co-operating with conventional medications – I like to think I've stretched his brain at least! Was thrilled to hear how happy he was that my transplant had gone well when I spoke to him a few weeks post op, and am looking forward to returning to his care in a few weeks' time.
Dr Amany Zekry – not just my Gastroenterologist (and part of the University team of Dr O'Sullivan and Dr Mangos) I think I realised that Dr Zekry was the doctor for me when I bumped into her at one of my favourite shoe shops one weekend.  Dr Zekry has always been the kind of doctor who would come into my hospital room, sit on my bed and put her arm around me to explain exactly what was going on – I like to think of her as my "Hospital Mum" and whilst she didn't have anything to do with my transplant, she was absolutely thrilled to hear that I had received it.
There are of course a lot of people who I haven't mentioned by name – my nurses, dialysis staff and concerned friends on Facebook - and my gratitude and love goes out to them. You are always in my thoughts and I'm eternally grateful for the care and love you have shown me.
The last people I would like to thank and acknowledge are a family I have never even met, and most likely never will, but your strong and amazing decision to give me the gift of a second chance of life will continue to amaze me forever.  I am deeply sorry for the loss that you had to endure to give me that second chance, but if you ever see what I accomplish in the future I hope you are proud that you made the right choice to donate.
Sep 02
Talking to Todd…..
When I attended the Journey of Hope launch in February this year, I barely got to meet Todd Bratfield – he definitely looked unwell.  It wasn't until I caught up with him for a chat recently that he told me his amazing story.
Todd has suffered for over 20 years from a condition called Primary Sclerosing Cholangitis (PSC) which is the progressive inflammation and scarring of the bile ducts of the liver.  The cause is generally unknown and the treatment is simple but extreme – liver transplantation.
Some of the things that Todd has to put up with each day include intense itching, (due to salts being excreted on the skin) chronic fatigue, sleep deprivation, memory loss and confusion, and malabsorption of fats and fat-soluble vitamins.  Todd undergoes a regime of constant blood tests, GP and Specialist visits (both in Sydney and Newcastle) regular vitamin K injections and blood transfusions and restrictive high protein, low salt diet, as well as a one litre fluid restriction.
Over the past two years, and after a particularly frightening episode where veins in Todd's oesophagus burst, causing him to vomit over two litres of blood, Todd's health had deteriorated to the point where he required a transplant, and in November 2010 he was placed on the transplant list. After an agonising wait, Todd had just gone to bed one night when a call came through – his transplant coordinator who told him to make his way to Royal Prince Alfred Hospital in Sydney – there had been a donor match found.  Todd quickly arranged for his brother to drive him and his wife Sharon to the hospital.  Upon arriving at RPA, Todd waited In the Emergency Room for several hours before finally being advised that the operation was not going to occur as the organ wasn't "good" enough to be transplanted.  It must have been a tough trip home, having to advise friends and family that it wasn't to be, as well as knowing that things had come so close.
I remember speaking on the phone about all this one afternoon and thinking of how much different life would be for Todd and his family after receiving a new liver.  That weekend, I received an email from Sharon telling me that Todd had received a call the day after I spoke with him and this time the surgery had taken place and that Todd was recovering well already! I arranged with Sharon to visit Todd in hospital, but only when he was ready for visitors – Sharon told me that he was already talking about going home – exactly the feeling I had, days after my transplant!
The Todd I saw when I walked into his ward room a little over a week after his transplant could have been an entirely different person to the Todd I met in February.  His skin showed hardly any trace of yellow, and he just looked WELL. Todd told me all about how fantastic he was feeling and how much energy he now had.  Even though we had had different organs transplanted, and for different reasons, I couldn't help but marvel at the difference to our lives.
Todd is now back at home, away from the hospital (except for monitoring) and is able to get back into life again.  He is looking forward to being able to partake in his hobbies – fishing and bikes, and looks forward to having the energy to keep up with his two children, Rhys and Kate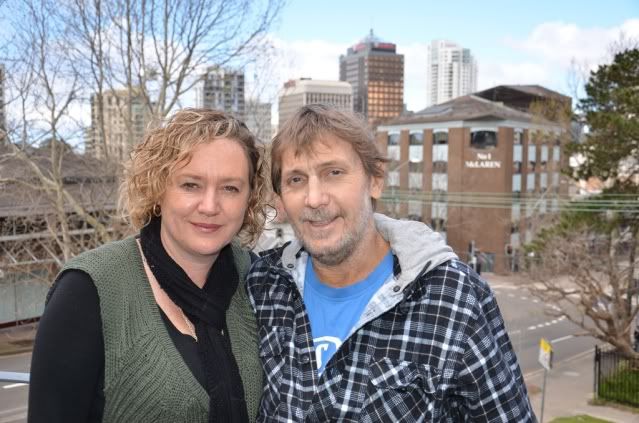 Todd and Sharon Bratfield - post transplant

Aug 27
What a week it was…..
As I am writing now, I am sitting in bed. Yep, I'm back in hospital – not entirely sick, but not altogether well either.  Let's go through the past week.
This week heralded my three monthly reviews and tests (a little early, but that's ok!) Monday I was back bright and early at Westmead Hospital to have routine bloods and a glucose tolerance test, which basically determines if you have diabetes.  I had no idea what to expect as I haven't had to go through this before! I was sat down in a comfy chair and given what looked to be a bottle of lemonade to drink. It wasn't lemonade – it was FAR sweeter, so much so that I had to have a break halfway through the bottle because my throat was burning so much!  After the drink, vials of blood were taken every 30 minutes, for a total of three hours.  It's a long wait – you are not allowed to walk around or move much, as this would affect the outcome of the test. 
Partway through my wait, I was told that my biopsy (which was scheduled for Wednesday) could be performed today, so off I (slowly) wandered to the treatment room.  None of the apprehension that I had for my previous biopsy.  It was over in a snap and I was to lie in bed, holding a weighted bag over the biopsy site for four hours.  Time to catch up on some DVDs!
At the conclusion of the four hours, I FINALLY managed to have a sandwich (I had had to fast for the glucose test and had gone from halfway through that straight to the biopsy!) I then rushed off to my third and final appointment for that day – a vascular mapping study.  It was whilst walking to the study that I noticed that I had a sore throat and was feeling a little rundown.  Russ had been suffering through a nasty head cold in the previous few days and I started to hope that it wasn't my turn.
The vascular mapping study involves having the major arteries in your neck and legs viewed under ultrasound to determine if there is any evidence of narrowing or of vascular disease.  At the conclusion of the ultrasound, I was told that there was no narrowing of the arteries and no vascular disease.  My first result and it was good!
Tuesday morning was another early trip to Westmead.  Today I had four appointments, the first of which was an ultrasound of my new organs and a special scan of my kidneys, giving a good indication of how well they are functioning.  The scan involves a radioactive dye being injected into a vein, then pictures being taken under a scanner which shows the dye flowing through the body, filtering through the kidney and finally being excreted.  This would normally be no problem, but I have terrible veins, so much so that I need my blood tests to be carried out via the fistula in my thigh.  A vein was luckily found and the dye was injected, but unfortunately the vein collapsed partway through the injection so the scan was aborted.
My next two appointments were reviews with my physicians, who were pleased with my transplant and my progress.  I was told that I had great results from the glucose tolerance test the day before and still had no need for insulin! 
The final test of the day was one which I had been a little nervous about (pardon the pun) It was a nerve conduction test, and this involved having sensors attached first to my hands and fingers, and then to my feet and toes.  Small electric pulses were then sent through points on my body to gauge the nerves' reaction.  Now I know that I have diabetic neuropathy (nerve damage) which diminishes and even eliminates sensation in my fingers and toes, but I was surprised to see that the damage was a little worse than I first though, with almost no reaction recorded through my feet, and a slight reaction in my hands.  This test is conducted at regular intervals to monitor any improvement to the peripheral nerves, which can take over four years to occur.
The sore throat, runny nose and tiredness had, by Friday, turned into a full blown head cold and was proceeding to also give me a tight chest and nasty cough.  I turned up at clinic yesterday morning as usual and saw the doctor, who took one good look at me and told me I wasn't going home.  Because of my history of pneumonia, my immune-suppressed status, and the fact that my doctor is paranoid (his words, not mine!) It was decided that I should be admitted for observations and a course of IV antibiotics.  I was also told that some of my levels were elevated and they wanted to keep an eye on things, especially over the weekend.
So here I am! As much as I don't like being in hospital, I DO know that here is the best place for me at the moment.  I have been told that some of my levels have settled back down and were probably a reaction to being sick.  I've also been informed that my biopsy results were great, and at three months I'm doing very well. I now just have to concentrate on getting better!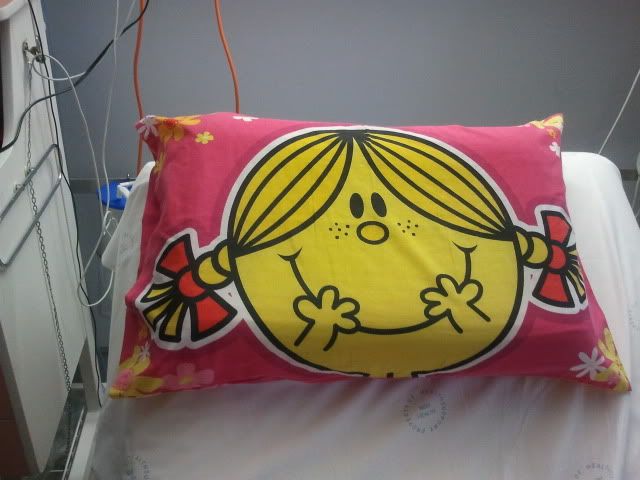 My pillow - something bright for an otherwise dull place!
Aug 20
What are YOU doing on Wednesday August 24?
Transplant Australia is wanting to make a difference to the lives of those waiting for a life-saving organ transplant - and we need your help.
Transplant Australia and 2GB are asking the Australian public and Corporate Australia to call our 1800 827 757 number on the day and pledge donations. We would appreciate your donation to help make this appeal a great success.
 Transplant Australia's Journey of Hope campaign was launched earlier this year to shine a spotlight on the importance of organ and tissue donation, the difficulties faced by those awaiting a transplant and to raise funds to develop financial, education and support programs. 
 The life of someone waiting for a lifesaving transplant is very challenging. Not only do they have to deal with uncertainty, their families are often dislocated as they move interstate to be next to a transplant unit while they wait. Work and school life is interrupted, lives are put on hold.
 In partnership with 2GB, 2CH, MTR and the Sun-Herald, the experiences, hopes, dreams, fears and triumphs of four people currently awaiting transplant, have provided the Australian public with a unique insight into their  transplant journey and the support programs that would be beneficial.
 As part of the campaign a radio appeal is being staged by 2GB/2CH Wednesday, August 24 from 6:00am to 6:00pm to raise further funds to support those people waiting for a transplant and their journey back to health.
Throughout the day 2GB presenters Alan Jones, Ray Hadley, Chris Smith and Ben Fordham will be interviewing a number of recipients, donor families and medical staff to illustrate the difficulties faced by many families as they wait for transplants.
Funds raised will help provide support in the following ways:
1)    Financial Assistance
•        Cash assistance in times of financial peril
•        Covering travel expenses to enable families to see their loved ones while waiting for transplants
•        Accommodation and rental assistance for those families who have to move to be nearer to a transplant unit
•        Subsidies to cover costs of a few simple things in life – such as the monthly rental of televisions for children waiting in hospital
2)    Development of educational and support tools:
•        Online education tool covering nutrition, exercise, body-image and a range of self-esteem topics
•        Journey of Hope book a collection of inspirational stories pre and post transplantation.
•        Care packs containing practical support items to assist recipients on their journey back to health, following a transplant.
 If you have any questions regarding the Journey of Hope or Transplant Australia's other programs please don't hesitate to contact us on (02) 9922 5400 or visit our website www.transplant.org.au  for more information.
Aug 17
plasticjergets-deactivated20110 asked: I'm pretty lucky that both my parents were able to, so I know I'm very fortunate. I'm also 3 monthly seeing my doctor - so far everything's going well, just trying to shake a stupid cold that's been hanging round for 2 months. Good luck with your check-up - I'm sure everything'll be a-OK!
Wow, I hope you're feeling better soon! Have (so far) managed to avoid getting a cold, and hopefully with winter winding up, I will escape it. 
I'm reasonably confident about next week - I would have thought that my blood tests would have shown something nasty if it were going on, but nice to know that these tests will be as little more definitive.  Am actually a little nervous about some of the studies being conducted, but that's for my next blog!
I'm just curious, but how did you find my blog? Are you a member of Transplant Australia? I was asked a few days ago, so I thought I would ask you………..
plasticjergets-deactivated20110 asked: Both were living related transplants - the first one I had was from my mother back in 1983 and the second from my dad in 2003.
How are things going for you?
Wow, both of your parents? Amazing! And things are still going well for you?
I'm doing well, go back to Westmead for my three month reviews and tests next week, so will be interesting to find out what's going on inside!
Aug 15
Tianna's story - guest post by Melissa Buller (Tianna's Mum)
Tianna Buller-Rushworth is just 17, yet in her short life she has been through more than most people double her age.  Here, her Mum Melissa tells some of Tianna's story.
Tianna was diagnosed with Eisenmenger Syndrome - Complex Heart Disease at 18 months old. Not something i had ever heard of, or even how to deal with. It's something we still have to learn day by day when different symptoms arise. We were told at the time that the Aorta and Pulmonary Arteries were blocked and she also had two holes in her heart. Over the years we have noticed a lot of different things with Tianna, depending on the weather, being cold you can notice Tianna's skin is quite blue, sometimes a dark purple on her fingers and toes, and her cheeks and lips have a bluey purple too. Tianna has a lot of trouble walking and sort of long distance and has to be supported, and rest quite often. She has been put on a few medications to try and help assist with her breathing to open her lungs a little more, to compensate. I guess we have never really known any different with Tianna as this all started so young for her, and it's all we have ever really known, lots of Dr and Specialist Appointments, frequent trips into Hospitals and drives to the city, medication, medication and medication… Now we are faced with PATIENCE…. it's the hardest thing to deal with at this time, not knowing when the call will come and how much longer we will have to wait. Tianna has been on the Transplant List now since the 9th of November 2010, in that time i think we have all experienced "Impatience". When Tianna was first put on the Transplant List we had visited St Vincent's Hospital for her usual tests and check-ups and we were able to meet some lovely people who had already received their organs, and had the chance to speak with them more in depth about what to expect. I think our downfall was actually expecting it to happen very quickly, as the patients we had spoken to all had their transplants within 3 Months. As time has gone on now being 9 months later, i think we are having to learn patience, and not to expect things to happen the way we expected. I guess it all came from the excitement of knowing we actually made the list, which was something we never thought would happen as Doctors had always told us Tianna would not be eligible for a Transplant. But after being transferred to St Vincent's Hospital and dealing with a number of fantastic Doctors there we have been given that chance. Now it's the waiting game. How much longer, what's the expected recovery time? How much will her quality of life improve? These are the questions we are faced with now….